ADD ME TO YOUR CART-FREE 12oz bag Double Dipped Chocolate Covered Peanuts & Sample Trail mix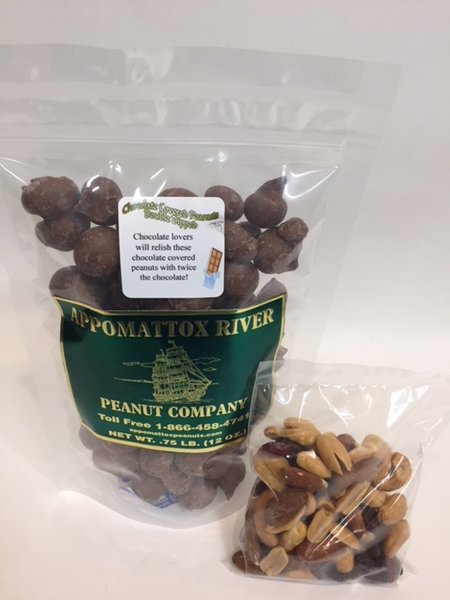 ADD ME TO YOUR CART-FREE 12oz bag Double Dipped Chocolate Covered Peanuts & Sample Trail mix
April weather is finally upon us, so let us shower you with these freebies! Spend $25 (before shipping) and we'll give you a FREE 12 oz. bag of our decadent Double Dipped Chocolate Covered Peanuts, where there's more milk chocolate in every bite. Plus, a sample bag of our Trail-Energy Mix which include Cashews, Almonds, Peanuts, Dark Chocolate pieces, Raisins, and Dried Cranberries. This mix is specially formulated to give you that mid-day energy boost. Only 1 per order.
- Shipping Chocolate Items -
We use only the highest quality ingredients and the finest, richest coatings for our products. Because of their rich content, they are particularly sensitive to warm temperatures.
You may order anytime from our storefront location at 424 S. 15th Ave, Hopewell, VA. 23860, however, we ship our chocolate products only during chocolate season,

October 15 through April 1

. Call 1-804-458-4741....depending on weather, there may be a week or so lead way ;)
PLEASE NOTE: we have reinstated our flat-rate shipping on ALL orders to save you money on shipping!!!
Don't forget to check us out on Facebook, Instagram, Twitter, Yelp, and Google+!!!
www.facebook.com/appomattoxpeanuts/

www.instagram.com/appomattox_river_peanut_n_wine/
https://twitter.com/Peanuts_N_Wine

https://www.yelp.com/biz/appomattox-river-peanut-company-hopewell

https://www.google.com/maps/place/Appomattox+River+Peanut+Co/@37.2934778,-77.3003716,17z/data=!3m1!4b1!4m5!3m4!1s0x89b1075787a00e93:0xa4200b60fb455b58!8m2!3d37.2934778!4d-77.2981829
Reviews